Filed under
Nail Fashion
, August 4th, 2012 by Admin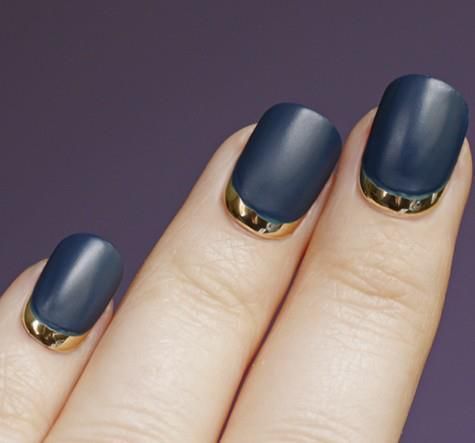 It's been a while that I have not been putting on colors on my nails, I do my pedis and manis regularly though, but it's so boring, I just have it cleaned and go. Often, whenever there are lots of ladies in line in the salon and I'm the last on queue, my manicurist would say, let's just do hers first she won't take long on this seat, lol.
I've been envious, especially when the coat is this elegant, my gosh, I actually have no idea what's this color called, perhaps I can find a match with the html codes, you know that number codes we use on our blogs to display colors, but with manis aspect, you can't squeeze out a colored juice out of my brain right now. The only thing I know is that this color is just so gorgeous, especially that it's based-laid with gold. I wonder if this is real flattened nuggets, if they were, gosh, I sure need a dozen of bodyguards or some bad guys out there will pull my nails out, ouchhh!
How I wish my chapped nails will be back to normal soon, they are actually but it's not time to color just yet, and why do these polish have lead content by the way, they're eating up my cuticles and making my nail plates cracked like cookie. But seriously, if you're also having problems with your nails like they're getting yellowish, having white spots and cracked ones, the doctor said they would surely turn into these if you're constantly coloring them – I suggest, just do the most bitter sacrifice of your life – go nail nude for a while and wait for the nail base to go down, it helped me, I mean my nails came back to life again. All this keratin need is some rest from colors that had lead.
[disclaimer: image not mine]
Comments